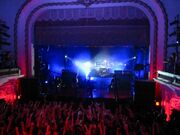 East of Anything is modern rock made by guys that love the classics. It's new sounds and familiar sounds combined in a novel way that's completely their own. This trio from south jersey is comprised of Gene Micofsky (guitar/lead vocals), Brian Carola (bass/vocals), and Darren Zimmer (drums).
Originally a solo venture for frontman Gene Micofsky, it began as a vehicle for new original rock written in 2008. As material for a record was taking shape, the title East of Anything was given to the project to better describe its transformation to more of collective of band members.
The band released their full-length debut 2/17/09, which is available for purchase on Itunes, Amazon, CDBaby, Best Buy, and Bestbuy.com. The music has been featured on Philadelphia-based commercial radio stations such as 93.3 WMMR, 94.1 WYSP, 93.7 WSTW as well 95.5 WBRU in Providence RI. and the Indie Revolution Radio Show 100.9 WMIR in NY.
To celebrate the release of the record in Best Buy stores, Best Buy Mt. Laurel hosted a highly-successful in-store record release party 4/25/09.
In August of 2009, they headlined the Trocadero mainstage in Philadelphia to an enthusiastic crowd of nearly 300 people. In the fall of 2009, they played at Lincoln Financial Field.
They recently won the WYSP contest to open for Anvil at the TLA January 17th 2010, receiving accolades from a very warm and receptive crowd. They are presently touring the east coast in support of the record, while working on material for a highly-anticipated followup recording.
Check them out! What are your views???
Community content is available under
CC-BY-SA
unless otherwise noted.