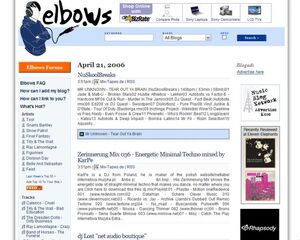 Elbo.ws is an mp3 blog aggregator created in May of 2005 by Brandon Griffiths. The original purpose was to provide details about mp3 files linked within mp3 blogs and extend the features of the already popular mp3blogs.net.
MP3 Blogger Community
Edit

The Elbo.ws MP3 Blogger Community was first suggested by Craig Bonnell of songs:illinois on January 17, 2006 and implemented later that day. The software used is an open source forum software by Lussumo called Vanilla.
Contact Info
Edit
Email: brandon@elbo.ws
Community content is available under
CC-BY-SA
unless otherwise noted.