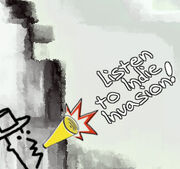 Indie Invasion
is a mp3 blog, a podcast, if you'd like, that fancies itself a radio show. Though more often than not the posts are just a short review and a link to the track. Proper episodes are posted on a terribly irregular basis likewise with what Indie Invasion calls "bonus tracks" although they seem to appear more often. Indie Invasion was founded, and is primarily hosted, by
Carlos Killpack
. The sites emphasis is on Creative Commons Licensed and unsigned artists/music and is an enthusiastic supporter of the Free Culture movement.
A Brief History of Time Indie Invasion Edit
Indie Invasion began it's life on blogger where the first four posts were made. Soon afterwards it became evident that some of the platform's inherent limitations, such as a lack of static pages and limited customisability, were hampering the growth of the site. Indie Invasion was subsequently moved to wordpress.com where it lived for six months to a year. After that time it became apparent that Carlos Killpack's vision for what the site should look like could not be fulfilled on wordpress.com either. Soon afterwards Carlos obtained the domain indieinvasion.net and began running the music blog from there. The new site features the beautiful magazine-style wordpress theme The Morning After, with numerous customisations I might add, the Wibiya blog toolbar and various other blog-enhancing bits of code.
Contributors
Edit
Carlos Killpack
Runs the show, posts most of the blog's content.
Jessica Killpack
Doesn't do much at the moment.
All of Indie Invasion's content (e.g. music files) are hosted at the Internet Archive which offers free and unlimited storage and bandwidth to anyone with a (free) account.
Community content is available under
CC-BY-SA
unless otherwise noted.