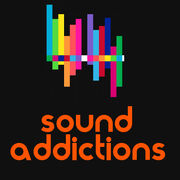 Sound Addictions
is an online compendium that explores uplifting, joyous music from any time period, any part of the world, and any genre founded by writer and former community-campus radio programmer and director
Christopher Laursen
. It compiled its content January through April 2013, and was completed as a web-based anthology including interviews, short articles, and five "vixTAPES" (music video mixtapes accompanied by short blurbs).
Defining the concept
Edit
Laursen defines "sound addictions" as follows:
1. a craving for rapturous music
2. a fixation that is healthy and beneficial
The idea is that the eclectic music featured on the website has benefits for one's emotional well-being; it enhances one's mood, uplifts the listener, and makes them feel good about life. This extends from Laursen's own studies of affect, particularly in the context of extraordinary experiences, the focus of his present research. Furthermore, the website aims to features as broad a spectrum of music from around th globe, to demonstrate that categorizations, genres, and labelling disable rather than enable the emotive spirit of music.
Sound Addictions features "vixTAPES" with short text and album cover art for the respective musician. It also notes country of origin and date of release. One vixTAPE features guest posts from readers from around the world sharing songs that uplift them along with often personal text related to the song. There are also long-form articles about music featuring multiple musicians, interviews with musicians, and featured guest posts with those in the music world.
In addition to featuring a wide variety of past music and seeking to educate on the history of music around the world (at times delving into socio-cultural contexts), Sound Addiction pays special attention to featuring emerging artists who released new music during the period in which it was compiled.
It also features a tribute to composer Ennio Morricone (Morricone Monday) and a satirical vixTAPE, Señora Svago's Friday Curios Shop.
Community content is available under
CC-BY-SA
unless otherwise noted.