---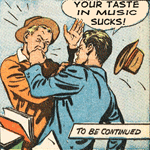 Tuning was started in Late 1999 but didn't achieve it's present level of disintrest until recently (2006).
Originally started as a catch all reference for music and sound, it has featured articles about and links to topics such as radio, field recording, unusual musical instruments, electronic voice phenomena, the prehistory of radar ,and various underhanded ways to get free music. The musicians featured have been a mixed bag; Rosemary Clooney, Van Der Graff Generator, June Tabor, Rassan Roland Kirk, Helen Shapiro, Various Covers of "Whiter Shade Of Pale", R. Stevie Moore, and Alpendub to name a few.
These days the proprieter is just getting back on track after a brief hiatus and hopes to have the most comprehensive blogroll of mp3 blogs in the wesern hemisphere. Recently Added: Better classification of blogs, improved contact information, listing of notable podcasts, clearer layout with more soothing colors, sporadic proofreading and editing. Those individuals and bands with blogs and myspace pages please refrain from using the comments to flack your toonage. Instead, [1] me. Those individuals hawking actual swag please mail materials to: Jay Niemann, 2333 E. Glenn Apt. #208 Tucson , AZ 85719. Now Being Accepted For Review: Magazines (zines and glossies), vinyl records, cassette tapes, CDs, DVDs, VHS, books, Macintosh software, Tshirts (XL) and other promotional materials.
The only thing that gaurantees a timely writeup is if you send something from overseas, Canada, Mexico, Hawaii, Or Alaska. Hopefully, some press will defray the obvious hassle and monetary outlay of sending me stuff.
Do Not send invitations to conferences, expos, summits, Meetings at Yalta, or sexual come-ons. Do Not send me email about pay to play MP3 services, genital enhancement, low interest rates, etc. I have a huge spam filter and I ain't afraid to use it.
Interview: Tim Nordwind of OK Go]
html Interview: Jordan Pundik of New Found Glory]
.html Interview: Good Charlotte's Joel Madden]
t.html Interview: Platinum Weird's Dave Stewart and Kara DioGuardi]
Interview: Chi Cheng of Deftones]
Interview: Hunter Burgan of AFI]
tml Interview: John Ondrasik of Five for Fighting]
ml Interview: Evan Dando of The Lemonheads]
Obie Trice]
ml Interview: Brendon Urie of Panic! At the Disco]
Interview: JR of Less Than Jake]
Interview: Puffy AmiYumi]
html Interview: Matt Rubano of Taking Back Sunday]
l Interview: Russell Lissack of Bloc Party]
html Interview: Shannon Larkin of Godsmack]
Interview: Eron Bucciarelli of Hawthorne Heights]
s.html Interview: Robby Takac of Goo Goo Dolls]
l Interview: Nathan Connolly of Snow Patrol]
Ice Cube]
Interview: Robin Thicke]
Interview: Martina McBride]
Community content is available under
CC-BY-SA
unless otherwise noted.